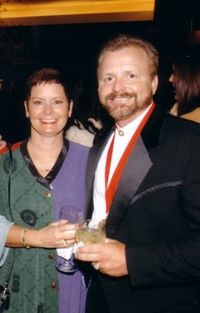 "My wife (Belinda) and I lived in an apartment in Antioch. We had one car and she worked  second shift at the bank. I was with Eddy Raven and he was a new artist. So he wasn't playing a lot, so there wasn't a lot of money. She started worrying about things and I kept saying, 'We'll be all right. We'll be all right. Don't worry' So when Eddy and I wrote the song 'Changes' with Tanya Tucker, there's a line that goes "Neither one of us will ever change/we're both the same and that's a shame/Cause when we were together it was right/We had it all, you and I'  For some reason, 'You and I' always stuck in my head as a title.  

So, I'm sitting around the apartment before she went to work one day, with my guitar. I was trying to write a song, trying to get an idea or something.  
She asked me what I was doing and I said 'Trying to write a song.' She asked, 'What kind of song?' I answered, 'A country song honey. We're in Nashville now. I gotta write something country. We're not in Ohio anymore.'  

She said, ' Well, that hasn't been working out real good." I said 'Well, we just got this Tanya Tucker cut." She said 'Yeah but there's no money coming in.' She said 'I know you're trying to write a country song but why don't you write me a Lionel Richie, Commodores type song.' And so I took her to work, came home and got my guitar. This melody started coming to me and I thought about that title 'You and I' and I wrote the song in a couple of hours. I picked her up that night, brought her home and played her the song. She was all teary-eyed.  
Read more